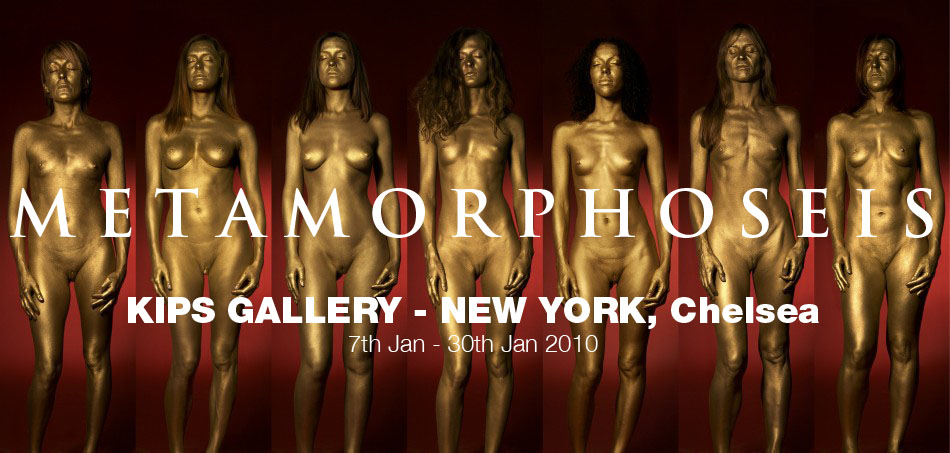 Metamorphoseis in New York
Kips Gallery New York, Chelsea
511 West 25th Street New York, NY 10001
Opening: 7th January 2010 18h00
Show: 7th Jan – 30th Jan 2010 – Tue/Sat from 11 am to 6 pm
Regaining Pantheism Alessio Delfino's Metamorphoseis
by Robert C. Morgan
The grandeur of Alessio Delfino's Metamorphoseis – a synthesis of photography and video in the purest sense – comes from a perspective on fashion fused with an acute awareness of both fine art and history. In addition to his technical and formal virtuosity as a photographer, Delfino has applied a unique conceptual perspective in creating a monument work of art through mixing media. To transcend the commonplace affects of craft, allure, and academic style, the project would require the artist to move into an uncertain aesthetic territory. Yet Delfino was committed to taking the risk. In doing so, he discovered a method by which he could go beyond mediumistic categories and thus realize his visionary project.
Metamorphoseis is a work of art that deserves serious attention, not only on the level of being a spectacle (which, in a sense, it is), but also on two other irreconcilable issues, namely connoisseurship and representation. It has been mentioned that Delfino's recent project moves beyond the repetitive and mundane aspects of political art and reaches deeply inside issues of beauty and identity that relate to women through a historical and mythological consciousness. There are different versions of Delfino's Metamorphoseis, involving both static (photography) and kinetic (video) presence. The photographic versions are printed on metallic paper and measure 167 centimeters high by 50 centimeters wide, in other words, life-size. The video version is a work in which the photographs are modulated so as to appear as if they were fading in and out of one another in a serialized pattern.
Alessio Delfino sets up his shows to give to the viewer the opportunity to experience both the photographic and video version of Metamorphoseis. The nude bodies of the women are painted in gold cosmetic paint. They are lined up together side by side and face the camera in a frontal position. They appear as golden statues with their eyes uniformly closed. The subject matter in both the photographic and the video versions is consistent in each except that the video version implies a metaphorical transformation as the images of the various women move in and out of one another. Although the women may initially look the same (given the gold color and frontal posing), upon closer scrutiny it is evident that each woman retains a distinct appearance. According to the artist's more or less theatrical intention, each woman simulates the trace and character of a mythological goddess from ancient Greece, such as those depicted in the Elgin marbles at the British Museum, extracted from the ancient Parthenon in Athens. These would include Iris, Artemis, Hestia, Dione, Aphrodite, Persephone, Demeter, Orithyia, and Amphitrite.
Delfino has done the research. In selecting his "models," he decided not to go for professionals but to choose everyday ordinary people. In making his selection, he would converse with each woman in order to understand her character. He would then try and compare the women with one of the Athenian goddesses. His aspiration was less concerned with expressing erotic qualities than in emphasizing the concept of natural beauty over the mediated notion of instantaneous glamour. Delfino wanted to create a frieze of goddesses, a Panathenaic procession (also shown as a bas-relief on the Parthenon), in which the ritual "peplos" or woven garment would be presented to Athena "the goddess of wisdom" for whom the city of Athens is named. In the faces of the women, the eyes are closed, thereby suggesting that the mind is elsewhere, and not specifically contained by the body. The influence of the Death mask of Agamemnon plays an important role in that it refers to an eternity rather than a secular historical moment. In viewing Metamorphoseis – whether in still-form or video – one may recall Mondrian's famous theosophical triptych, called Evolution (1911), in which three blue nude women confront the viewer in a similar manner as those who have posed for Delfino. On the left and right sides, the women's eyes are closed, but in the center, the woman's eyes have temporarily opened, referring to a sudden, yet fleeting moment of wakefulness, an instant enlightenment. Alessio Delfino's women function in a similar way to Mondrian's, but with some interesting differences.
The Parthenon in the fifth century B.C. was dedicated to Athena, a mythological woman who possessed wisdom. The various gods and goddesses surrounding her were, for a better phrase, spiritual archetypes, each given a special function – hunting, fertility, joy, sorrow, frivolity, excess, stoicism, and so on. These deities were not simply "spiritual" entities displaced from normal life, but mythological beings that symbolized attributes of earthly beings. The ancient Greeks believed in pantheism, not monotheism; and by having several gods and goddesses, the focus of attention on the quality of life was seen in a more practical, shall we say, a more beneficial way. Delfino's somewhat eerie, though evocative spectacle gives us the prospect of what a pantheistic life replete with female goddesses might have to offer at a time when monotheism appears under scrutiny.
Robert C. Morgan is a critic, artist, curator, poet, and art historian who resides in New York City. Author and editor of many books and a contributing editor to several periodicals, Morgan holds both a Master of Fine Arts degree and a Ph.D. in contemporary art history.